The Training Leadership Network Event of the Year
BiG* Leaders Summit 2020
Tickets are now on sale – Join us on May 12th 2020 and Learn, Unlearn and Relearn at BiG* Leaders Summit in the Clayton Hotel Galway.
BiG* Leaders Summit, sponsored by Western Management Centre, promises to be the best one yet, building on the success of previous years to secure David Meade as the Keynote Speaker.
David Meade is a world-class international corporate speaker, performer and TV personality with a renowned reputation for helping organisations work more effectively. His mindreading and mentalist skills impress and baffle worldwide audiences making his entertainment and keynotes hard to forget. His sought-after services are applicable to any industry, engagement, or occasion. David always guarantees a highly energetic, fun and engaging session.
We look forward to revealing our Taster Speakers, featuring a hand-picked selection of excellent presenters covering important topics that are relevant to the Leaders of today. 
In addition to our strong conference lineup, this half-day event will also feature excellent networking opportunities and discussions with industry experts on the future of training in the West of Ireland as part of our exhibition area. A light breakfast and lunch will be included for all attendees. 
Tickets for the BiG* Leaders Summit are on sale from Monday, February 10th – you can register by clicking here.
BIG* – well that's Based in Galway. We are Galway Executive Skillnet and we believe that while Galway is recognised as 'the place to live in Ireland' we need to ensure that it is 'the place to work in Ireland'. To achieve this aim we need strong successful businesses, with strong successful teams, managers and leaders.
If you believe that BiG* contributes to your success – this is the event for you.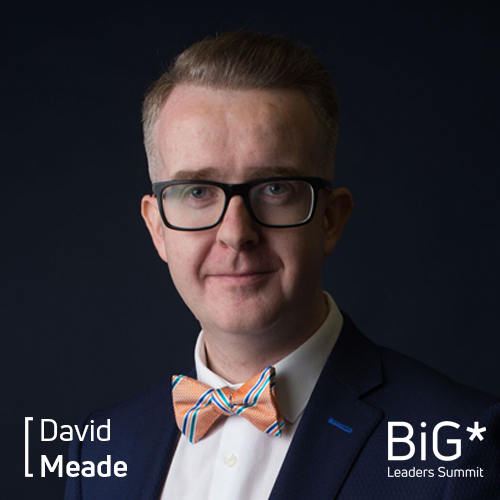 Keynote Speaker
David Meade
David Meade is a first-class honours graduate from Ulster Business School, and his work as a lecturer and researcher in International Business and Strategy with the University of Ulster has built his reputation as one of Europe's most sought after motivational and organisational speakers, trainers, and facilitators.
Over 85% per cent of David's diary is spent working at the executive level, motivating and inspiring some of the largest and most diverse organisations. He's worked with organisations such as Apple, PwC, BT, Saba, Harvard in Boston, the Cabinet Office in Westminster, Bombardier, and the Bank of America.
David works with clients to help them improve business operations and performance, by working with all levels within an organisation. He does that by drawing on decades of cutting edge research on management, organisational culture and leadership to build scientifically sound and evidence-based development programs, that create demonstrable improvements. David receives acclaim from clients that recognise the strong business value he offers organisations.
Experience the energy and intellect of one of the most sought-after speakers on the circuit – book your place at BiG* Leaders Summit today.
Book Your Ticket Now
Take advantage of our Early Bird booking offers:
Ticket Price: €95
Book Before April 1st: €75
Skillnet Member Pricing: €60
(Contact Your Network Administrator For Info)
All ticket prices are matched with a Training Voucher of equivalent value redeemable from Galway Executive Skillnet in 2020.
"Well done on a great event. I thoroughly enjoyed participating and learning from it. "
"Congratulations to all on an excellent event yesterday, I have spoken to several delegates and feedback was very very positive."
"I have found the course very enjoyable, informative and practical. Looking forward to closing out on Monday and putting my new training to good use."